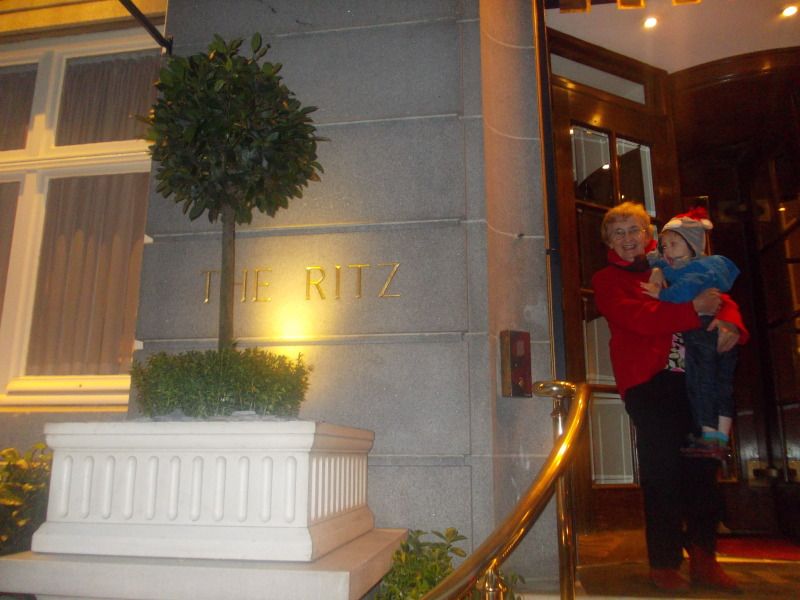 My ocassionally madly extravagent sister booked us in for afternoon tea at the Ritz for my Mothers birthday. I'm not allowed to say how old my mother is although she says it's not a secret or a big deal. My sister seems to be labouring under a misapprehension that mum is two years younger than she is. I didn't bother to entlighten her either.

Anyway tea at the Ritz with a toddler. This I felt would only end one way. Me on tenderhooks and a host of disapproving looks. Little E is not what you would call naughty but he is a normal (nearly three year old) child with all that entails. And if people have forked out between £50-65 quid they won't want a child squawking in their lugholes, spoiling their enjoyment of the earl grey and curdling the creme anglaise. No. All was well, although my sister did shoot me a decidedly threatening look when Little E loudly annouced he wanted 'booby'. Thankfully he was easily distracted by the cakes as even I wasn't sure I could carry that one off.
The seating actually feels quite private despite being in a big room with a couple of hundred other diners.The low level conversation buzz helps with that.The staff were extremely polite and friendly as you would expect but not remotely stiff which I think we did expect. The waiter coming around with the sweets trolley took particular care to give little E the only chocolate decoration on the top of the cakes he was slicing.
The cakes were lovely and you could eat as many as you liked. But actually I was a bit disappointed with the variety. Once little E had demolished 4 of the 5 little cakes they bought out another plate of exactly the same cakes. There were also scones, jam and clotted cream which were lovely, lacking in sultanas, but I had braced myself for this disappointment after reading someones complaint online beforehand. I think if the number of sultanas in your scone is the only complaint it can't be half bad. Also, although the cakes and sandwiches were dainty its surprising how quickly you fill up, (seriously whats in those things? soluble fibre to fill you up?) but it seemed as long as you cleared a plate another one arrived to replace it.
They didn't charge for Little E when it came to pay , although he demolished five little cakes he didn't eat much and they didn't offer him a drink either so he just sat nursing his fruit shoot and pushing cake through the silver tea strainers. I was just glad he was quiet and occupied. It does ask you to pre-book a high chair if you need one. All in all a much more relaxing experience than I expected and Mum loved it. If you book a celebration tea with a cake you can have a message decorated onto it for no additional charge and they box it up for you to take away. Ian the pianist plays Happy Birthday as they bring it out.